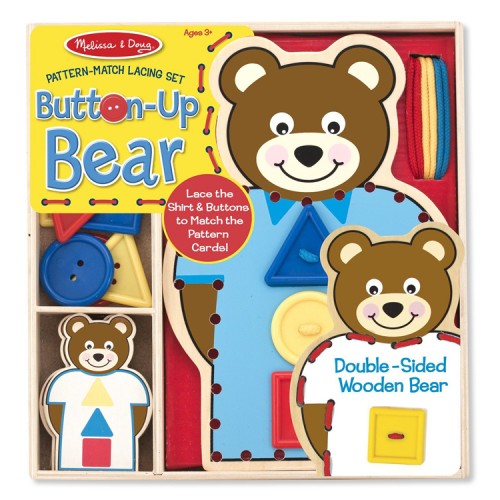 Button Up Bear Lacing Activity Toy
Ships FREE with $25+ order
Gift wrap is available
Satisfaction guaranteed
Easy returns
Buying Options
Estimated delivery
1 to 3 business days
Expedited delivery available.
Button-up the wooden bear, match colors and patterns, learn early math, and practice fun lacing with this preschool learning play set by Melissa & Doug!
Develops skills: Shapes, Colors, Patterns, Matching Skills, Hand-Eye Coordination, Problem Solving, Manipulative Skills
Cute as a button and full of fun! The Button Up Bear
Lacing Activity Toy
is a new manipulative playset by Melissa & Doug. This kids lacing set brings a smiling wooden bear shape that will help the preschool children to learn patterns, colors, matching skills, and improve dexterity. This pattern-match lacing set includes 9 jumbo size buttons in 3 bright colors – yellow, red and blue, 3 laces, double-sided bear shape, and 5 double-sided pattern cards. Attach the correct buttons with one of the laces from Button Up Bear Lacing Activity Toy. With the blue side of the wooden bear match the shapes without the pattern cards. With the white side of the teddy shape match the shapes and colors using the pattern cards. The backside of the wooden storage tray from this learning play set includes the extension activities to offer more teaching ideas for parents. Educational Toys Planet offers this manipulative activity set as a great way to encourage early math skills, problem solving skills, fine motor development and patterns learning.
Customers Also Bought
Product Details
| | |
| --- | --- |
| SKU | w-md-9492 |
| Manufacturer Recommended Age | 3 years |
| Quantity Available in Stock | 28 |
| Manufacturer Part Number | dsc-w-md-9492 |
| UPC | 772094924 |
| Category | Lacing Toys |
6 Pcs Lacing Toy Toddlers, Geometric Wooden Threading Toys, Educational and Learning Montessori Activity Baby and Kids, Fine Motor Skill Toys, Pumpkin, Corn, Tomato, Eggplant, Broccoli, Carrot
❤【WOODEN LACING FRUIT TOYS】The lacing toy set includes 6 lacing ropes and 6 different sliced shapes: star, square, heart, circular, triangle, pentagon. These wooden threading toys help to develop kid's imagination, hand-eye coordination, fine motor, cognitive and visual perception skills
♦【EDUCATIONAL MONTESSORI TOYS】These threading toddler toys reference Montessori teaching activities, guide children develop strong essential skills and encourage them independence, such as shoe tying, zippering and buttoning
⭐【TODDLER TRAVEL TOYS】These travel toys are perfect for toddler airplane activities and road trip activities for kids, not only in planes and cars, but even restaurants and schools. Children focus on playing with rope toys to eliminate boredom and irritability from traveling
🔺【ATTRACTIVE DESIGN】A cute wooden caterpillar and log are attached to each end of the lacing rope, the caterpillar is used to thread the rope, and the log is used to stuck the hole of the wooden toys. When children thread the string through the holes of the geometric wooden threading toys, it looks like the caterpillar is "eating" the wood
⚪【SAFETY MATERIAL & DURABLE】 These lacing toys for kids 3-6, made of durable wood, lead-free, BPA-free, and no chemical smell. Suitable size easy for small hands to hold and play, it is also large enough to prevent accidental swallow. Perfect gift for Birthdays, Easter, Children's Day
Sale
Zeoddler Wooden Animals Lacing Card for Kids 3-5, Sewing Cards for Toddlers, Art and Craft for Kids, Fine Motor Skill Toys, 6 Wooden Panels and 6 Matching Laces, Gift for Boys, Girls
🌳🐻【Wooden Lacing Cards for Kids】Our forest animal wooden lacing card is the PERFECT CHOICE for you and your kids as it is made from natural wood, extra thicken panels with well designed. This art and craft kit is suitable for 3+ years kids and represents the perfect activity to learn through play!
🌳🦌【Forest Animal Sewing Toys】Our cute wooden toy set includes 6 forest animal panels (deer, bear, rabbit, fox, hedgehog and squirrel) with 6 matching laces. It will provide hours of entertainment for your littel one. The 6 thicken animal panels are that come with this art set are durable enough to play everywhere you want - an excellent hand-eye and wrist coordination challenge for your child!
🌳🦊【Arts and Crafts Kits for Toddlers 】 Our toddler activities learning toy is designed to help children develop their fine motor skills, hand-eye coordination, color recognition, critical thinking and problem solving skills. It also helps young kids to discover the world by touching different items and observing the results on his actions.
🌳🐿️【Child-Safe & High-Quality】We insist on adopting high-quality craft and making delicate products attentively for toddlers. This sewing kit for kids is made of 100% non-toxic wood with water-based paint, child-safe, as well as eco-friendly. The edges of this sewing toy are smooth and won't hurt the toddler's skin.
🎁【Awesome Gift for Kids】🎁Our Wooden lacing card is the top toys gifts for toddlers suitable for any situation, such as birthday gifts, Easter gifts, holiday presents, daily toys. Don't miss any chance to surprised your kids.
Edx Education Large Buttons - Mini Jar Set of 60 - Lacing Activity - Sensory and Fine Motor Skill Development - Math Manipulative for Kids
ENCOURAGE FINE MOTOR SKILL DEVELOPMENT -- Strengthen dexterity, hand-eye coordination and the pincer grasp with these colorful counters. Use the laces provided for an extra challenge!
WONDERFULLY VERSATILE -- Use the included activity guide for ideas on how to build fine motor and early math skills with these buttons.
ENCOURAGE CREATIVITY -- Use these large buttons for pattern designs, art activities or role play.
CONVENIENTLY PACKAGED -- The large buttons are packaged in a storage jar with lid and carry handle. A fun activity to take with you anywhere!
Ancistro Busy Board, Montessori Toys for 1 2 3 4 Years Old, Sensory Toys, Girls & Boys Preschool Toddler Activities Educational / Travel Toys for Fine Basic Dress Motor Skills
【Montessori Busy Board】- This busy board is one of the most perfect Montessori toys for 1 2 3 4 years old boys & girls, a great sensory toy which encourages independent play while helping toddlers 1-4 develop basic skills. A superb educational toy for your toddlers to explore by themselves.
【21 in 1 Toddler Toys】- The sensory board provides 21 items (shoe laces, gears, clock, zippers, buckles, buttons, snap pocket and more), it is made of soft and durable felt cotton, no hard corners, no harm to the skin and no peculiar smell, totally safe and durable for 1-4 years toddlers.
【Parent-Child Interactive Educational Toy】Busy board for toddlers can not only train children's hands-on ability, cultivate children's learning ability, coordination ability and way of thinking, but also promote emotional communication between parents and children, and increase children's closeness and love to their parents.
【Portable Toddler Travel Toys】 - The lightweight handbag design of this activity board make it easier to put it into your backpack or purse and take it everywhere you want, your kids can use this preschool learning toys in the car or on the plane, with it, your kids will no longer boring during the journey.
【Great Gift for Kids】 - This busy book is designed for toddlers 1-4 years old, to helps develop manipulative ability, cognitive and motor skills, your kids will love the colorful and exquisite pattern. This Montessori board is the perfect Christmas Birthday gift for toddlers.
Sale
How to Tie Your Shoes
Cottage Door Press (Author)
English (Publication Language)
10 Pages - 09/18/2018 (Publication Date) - Cottage Door Press (Publisher)
70 Pcs Montessori Lacing Threading Toy - Geometric Shaped Large Beads for Kids Crafts, Preschool Activities and Daycare Toys - Autism Learning Materials and Fine Motor Skills Toys for 3 4 5 6 Year Old
Includes 4 pieces of bead string and 70 geometric shapes of big lacing beads in different colors to help preschool boys and girls with color recognition and geometric shape learning.
Geometric shapes include round, octagon, pentagon, triangle, oval, quadrilateral and rectangle. Each shape comes in each of the main colors of red, green, yellow and blue.
Great occupational therapy toys for building hand-eye coordination, dexterity and developing fine motor skills. Ideal for use with autism therapy and special needs.
The different shapes and colors allow your kindergartener to have fun playing matching and sorting games, while learning and strengthening their visual perception skills.
The ease of lacing and threading the shapes together let your child create all different kinds of items such as belts, necklaces, crowns, caterpillars, snakes and much more. The only limit is their imagination!Best christmas gift sets for kids
Kghios Montessori Toys Materials for Toddlers BusyBoard,Busy Board Learn to Dress Board Early Learning Basic Life Skills - Zip, Snap, Button, Buckle, Lace & Tie Educational Tools Preschool Learning
CONVENIENCE: Book style with handle design, very easy to carry! Product 4 pages, 8 sides! Products include: Zip, Button, Buckle, Snap, Tie & Lace six kinds of learning board teaching aids
PRICELESS:Reduce tantrums by eliminating boredom.Whether at home, on the plane, on the high-speed rail, Those dress boards can quickly make little kids calm down.
PRODUCT FUNCTIONS: exercise children's finger flexibility, develop the ability to adapt to daily life, develop children's ability to use their hands and minds and also have the effect of intellectual development, more can be used as parent-child activity toys!
FINE WORKMANSHIP:Good workmanship, bright color, can be very good to arouse the baby learning and playing interest
EFFECT:Assists kids and those with special needs, to develop fine motor and cognitive skills, hand-eye coordination and also encourages kids to combat hurdles and develop problem-solving skills.
Little Chubby One Busy Board Set - 8x10 Inches - Learning Activity Toy - Educational, Helps Develop Motor & Dress Skills - Color, Hand Eye Coordination - Learn to Button, Buckle, Zip, Snap, Lace & Tie
Sensory Busy Board Set: Little Chubby One's Busy Board Set is full of six wonderful, hands-on sensory activities to keep little ones engaged while helping them to develop their fine motor skills.
Developmental Toys: When children buckle, tie, zip, snap, button and lace, these Sensory Busy Boards provide tactile and sensory stimulation while helping to develop fine motor skills and hand-eye coordination at the same time.
Learning Tools: In addition to fine motor skills, these interactive toys teach lacing and tying skills to improve finger dexterity and strength. Each board is furnished in a vibrant color, promoting cognitive development and encouraging color recognition to boot.
Portable Design: Each Sensory Busy Board is lightweight and portable, perfectly sized for little hands to hold and carry so you can keep your child engaged at home, in the car, on a plane, while running errands and when you're away.
Great Gift Idea: Recommended for ages 3 and up, the Busy Board Set makes a perfect gift on birthdays, holidays and special occasions. It also provides a sense of calm, making it a great choice for those with sensory processing disorder, ADHD or autism.
9 Pieces Kids Lacing Cards, Double Sided Sewing Cards in 9 Wild Animals with 9 Colorful Laces, Imagination Development Lacing Toys Games for Children Educational and Learning Activity
Multiple Skills Development: The lacing card is designed to develop lacing and sewing skills, children can get diverse skills while they play the cards. It is an ideal educational toy to develop kids' hand-eye coordination, sequencing, dexterity, imagination and motor skills. And learn to tie shoelaces in advance.
Value Pack: It comes with 9 vibrant lacing cards with 9 colorful laces, sufficient quantity to meet multiple kids' needs. Small and simple toys make your educational game more interesting. Play and enjoy the endless fun with your whole family!
Premium Material: The lacing cards are made of sturdy cardstock, durable and handy. Printed with premium plant ink, non-toxic and no odd smell, safe enough for toddlers' use. The laces are made of quality polyester, which is not simple to break, and can serve you for a long time.
Cute Animal Patterns: The pattern covers diverse wild animals, like hippo, tiger, zebra, bear, giraffe, lion, monkey and other lovely animals. The patterns on cards are colorful, big and vibrant. The holes are clearly cut and easy for preschoolers to work with. The strings are easy for children to use and fit into the holes easily.
Ideal Gifts: This set can be used as a toy game for children at home, a DIY art craft project for teachers in class, a beautiful and interesting house decoration with these laces for your place. This is very beneficial to exercise children's hand-eye coordination, and bright colors can attract children's attention and make them more focused. A must-have piece for each family.