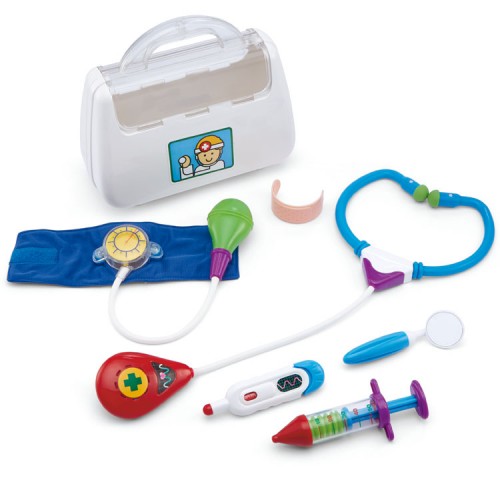 Little Doctor 7 pc Kit
Ships FREE with $25+ order
Gift wrap is available
Satisfaction guaranteed
Easy returns
Buying Options
Estimated delivery
1 to 3 business days
Expedited delivery available.
Kidoozie Little Doctor Kit comes with 7 quality doctor play pieces to open a doctor office for the friends or siblings, or animal hospital for your stuffed animals.
Develops skills: Pretend Play, Imagination, Manipulative Skills
Awards: Oppenheim Toy Portfolio - Gold Seal
Let's play doctor! We have all the medical tools a doctor needs to treat his patients in this cute doctor's case by Kidoozie. Little Doctor 7 pc Kit comes with 7 quality doctor play pieces to open a doctor office for the friends or siblings, or animal hospital for your stuffed animals. This quality
doctor pretend set
from Educational Toys Planet contains toy thermometer to check if your patients are feverish, bandaid for scratches, toy stethoscope, syringe for emergency or routine shots, auriscope, blood pressure gauge. All these toy doctor's instruments neatly fit into an enclosed carrying case for storage and portability. Our award-winning Little Doctor 7 pc Kit will sparkle your children's imagination and keep them busy playing pretend doctor for hours.
Customers Also Bought
Product Details
| | |
| --- | --- |
| SKU | w-ip-g02508 |
| Manufacturer Recommended Age | 2 years |
| Brand | Kidoozie |
| Quantity Available in Stock | 9 |
| Manufacturer Part Number | g02508 |
| UPC | 20373025080 |
| Category | Doctor Toys |
BAIAI 40 Pcs Doctor Kit for Kids 3-8 Toddler Toys Ages 2-4 Girls Educational Toy Doctor Playset for Girls Toddler Ages 3-6 Medical Kit Role Play Doctor Gift for Kids Toddler Age 2 3 4 5 Year Old Girls
【COMPLETE DOCTOR KIT for KIDS】: The kit includes 40 Pcs: suitcase, doctor's clothing, glasses, ID card, record board, stethoscope, tweezers, scalpel, tweezers, syringes, scissors, reflex hammer, diet mirror, oral mirror, digital thermometer, pills * 2, toothbrush, dentures, tray, etc. This doctor pretend play can not only stimulate kids' imagination and creativity, but also cultivate their compassion and foster their social skills.
【DOCTOR PLAYSET KIT】: Our doctor Kit stethoscope, thermometer and otoscope can all light up at work, giving children a more realistic experience in the game. When children press the stethoscope, the stethoscope can simulate the sound of a heartbeat. The thermometer is available in three different temperatures, and the push of a button can diagnose "sick" or "healthy". Enjoy the interactive fun of pretending to be a doctor patient.
【REALISTIC TOY DOCTOR PLAYSET KIT】: Dress your kid up as a little doctor by wearing the doctor hat, coat and glasses. With these doctor kits, your kids can pretend themselves as a real doctor, pretending play with pets, dolls and toys. Besides, this doctor playset can help relieve children's fear of hospital in a fun way. Kids can also comprehend the uses of different medical tools and know different body parts.
【EASY STORAGE & CARRY】:Dentist kits are made with high quality ABS material, BPA free, qualifies the US toy standards. Every piece suits kids' hands perfectly. No sharp edges. All doctor tools can be stored into the case, keeping your home neat. Handle design also makes it convenient to carry out.
【PERFECT GIFT FOR KIDS】: This kids doctor kit for girls is recommended for kids age 3 years and up.They can dress like a doctor with cap. Perfect for Party, Pretend Play, Role Play, School Classroom, Holiday Toy Gifts, Christmas Gifts and More.
Sale
Sundaymot Doctor Kit for Kids, 34 Pcs Pretend Playset for Toddlers, Doctor kit for Toddlers 3-5, with Medical Bag, Stethoscope and Other Accessories, for Boys and Girls Fun Role Playing Game
Realistic Kids Doctor Set: Inspire your child's imagination with our incredibly realistic and comprehensive kids doctor toy set. doctor toys It features a doctor coat, stethoscope, stainless steel tray, wooden syringe, capsule, cell phone, walkie-talkie, bandages, face mask, and more. doctor kit for toddlers 3-5 Each accessory is meticulously crafted to provide an immersive and lifelike medical kit experience.
Educational Pretend Play: Foster your child's learning and development through engaging pretend play. With our doctor set, children can step into the roles of doctors and nurses, donning the doctor coat and using the functional stethoscope to examine and treat their "patients." This interactive play experience not only sparks their imagination but also teaches them about different medical tools, body parts, and the importance of empathy and care.
Durable and Safe Construction: Safety is our utmost priority. Our doctor kit is made from high-quality and durable materials, including smooth wood and non-toxic ABS plastic. Each component is carefully tested for safety and durability, ensuring long-lasting play. toddler doctor playset The design features rounded edges, pretend play for toddlers 3-5, providing a worry-free play experience for both children and parents.
Easy Storage and Portable Design: Our toddler doctor kit features a sturdy canvas medical bag for easy organization and accessibility. Simply pack everything back into the bag after playtime, keeping your space clutter-free. The portable design with a comfortable handle ensures effortless transportation for playdates or family trips.
The Perfect Gift for Toddlers: Whether you're searching for a birthday gift, holiday present, or special surprise, our kids doctor playset toy set is an excellent choice for toddlers. Its captivating packaging, wide range of kids doctor kit, and endless play possibilities make it a standout gift. Ideal for birthdays, parties, pretend play, role-playing, educational activities, and fostering social skills, this doctor set will bring joy and smiles to any child's face.
Phobby Durable Doctor Kit for Kids, 27 Pcs Deluxe Pretend Play Medical Kit Toy with Real Stethoscope, Doctor Kit for Toddlers Boys Girls Aged 3 4 5 6 7 8(Pink)
REAL STETHOSCOPE: Unlike other kids' doctor kits, the Phobby doctor playset is more realistic. The upgraded kids' stethoscope can hear the real heartbeat, and the kids' doctor costume allows children to more truly experience the fun of pretending to be a little doctor
27-PIECE DR KIT FOR KIDS: In addition to basic doctor's tools, our doctor playset also adds pretend teeth and basic dentist toys for kids. You can teach your kids how to brush and protect their teeth correctly
SAFE & DURABLE TODDLER DOCTOR KIT: Phobby toddler doctor playset has no sharp edges or corners. It is made of safe, odor-free, and durable plastic material with bright colors. The pre-installed button cell brings you the greatest convenience
EDUCATIONAL KIDS DOCTOR PLAYSET: While playing with this toy doctor kit, children can know the use of different medical tools, recognize the importance of taking care of teeth, and reduce the fear of visiting a doctor
PORTABLE STORAGE CASE: Your little doctors can take our doctor playset toys everywhere with this convenient handle. All doctor accessories can be stored in the storage box to keep the home tidy. The snap latch enables the doctor's case to be closed safely and can be operated conveniently for your kids
KODATEK Doctor Kit for Kids, 33 Pcs Pretend Play Medical Toys Set, Roleplay Doctor Costume, Wooden Accessories, Flashlight, Tray, Stain Steel Stethoscope, Dentist Kit Toys for Kids, Toddlers, Girls
🏥【Durable and Abundant Doctor Kit】: Full of 33 Pieces pretend play medical equipment, contains a doctor coat, cap, stethoscope that can make real heartbeats, stainless steel tray, iodine cup, medical illumination lamp, wooden syringe, tweezer, capsules, cotton, glasses, thermometer, washable face cover and various realistic dental care accessories for cleansing and treating.
🥼【Educational Kids Doctors Kit】: Fun way for aspiring young doctors to learn about the human body via doctor/patient role-playing. Ease kids' fears associated with a visit to the doctor and teach them health practices. Helps develop creative expression, social skills, and confidence when pretending to play with family and friends.
👩‍⚕️【Realistic Doctor Playset】: The doctor coat and face cover will allow your child to not only play the part but actually look the part as well. When kids press the electronic stethoscope, they can hear the heartbeat sound, The thermometer with light, button click can change the degree, Stainsteel tray and iodophor cup let the kid look more like a small doctor and also make more sense, which can give children a more real experience while playing.
🩺【Unique Signable Doctor Bag】toddler doctor kit with zipper design sturdy medical bag, the junior doctor can sign their name on & pack all accessories in and carry them anywhere. In the playing process, it cultivates kids great storage habits. Washable Canvas Materials of the doctor bag keep the role-playing game clean & hygienic!
🎁【Great Gift for Kids】: Doctor Set full of dentist toys will make a great gift for aspiring doctors ages 3 and up. Role Play help inspire imagination and grow ambition. Make children's birthday, party, holiday, Christmas complete with an exciting play doctor set that adds lots of ongoing imagination and hours of fun!
Sale
Play-Act Kids Doctor Kit,16-Piece Pretend Play Medical Kit with Bag,Doctor Role Play Set,Realistic Toy Stethoscope,Reusable Record Cards,Dress Up Doctor Playset for Toddlers Ages 3+
Doctor's Essential Kit: Unleash your preschooler's imagination with our 16-pc dramatic play toys for preschool set. Embodying the spirit of kids dr kit and kids doctor kits realistic, it features modern, functional medical appliances, including a thermometer, pulse oximeter, stethoscope, blood pressure cuff, and more!
Clinic Visit Reimagined: Our pretend play doctor kit fosters your child's imagination, reimagining a real clinic visit. From check-in to patient exams, this set stands out among dramatic play toys, offering a hands-on experience of the medical process.
Interactive Pretend Play: Let your child immerse in a dr kits for kids experience! Step into the role of a physician with our provided doctor name tag. The reusable record cards and marker echo the accessories in top doctor sets for kids, enriching their play sessions.
Functional & Modern Medical Toys: Ours is not just another toy doctor set. Designed to be modern, stylish, and functional, it boasts light and sound effects, resonating with the authenticity of realistic kids doctor kits. With an electronic thermometer to a blood pressure cuff, it promises an engaging pretend play experience.
Multiple Play Times with Reusable Cards: Embracing the essence of the best dramatic play toys, our kit includes a marker and reusable record cards, giving your child endless opportunities to explore healthcare through interactive play.
Deejoy Toy Doctor Kit for Kids, Pretend Medical Station Set for Boys & Girls, 28 Accessories Mobile Cart with Lights and Thermometer, Kids Doctor Kit for Toddlers 3-5 Years Old
【Turn your beloved baby into a little doctor】Use children's rich imagination and creativity to experience the fun of being a doctor.
【Multi-purpose doctor cart】Children can do "medical check-ups" for family members or friends through a wheeled medical cart. Storage counter and oversized locker for all accessories. Cultivate children to develop good storage habits during play, but also can learn medical and health knowledge.
【A complete fun of medical tools】The doctor cart kit comes with a syringe, stomatoscope, thermometer, eye chart, X-ray and more. The Upgraded stethoscope produces an authentic real-life heartbeat sound and light effect. Free telescopic measuring rod at any time to record the child's height.
【Certified and secure】You can rest assured to use a medical suit that is both safe and fun. Made of high quality ABS material, BPA free, no odor, smooth surface. The sturdy and stable doctor kit Complies with US Federal ASTM and CPSIA safety standards.
【Perfect gift for kids】This kid's doctor set toy is recommended for kids ages 3-8. They can imitate doctors to treat patients. Perfect for party, pretend play, role play, school classroom, holiday toy gifts ,birthday gifts and more.
Best Choice Products Pretend Play Doctor Kit, Boys & Girls Doctor's Outfit, Toy Medical Set w/ 18 Accessories, Coat, Hat, Carrying Case, 2 LED Toys
IMAGINATIVE PLAY: A matching hat and coat allow your child to immerse themselves in their role as a pretend doctor
JUST LIKE A REAL DOCTOR: Kids can experience the exciting world of medicine with the help of an all-inclusive set and a little imagination
ACCESSORIES INCLUDED: Little doctors can run diagnostics with a set of 18 toys, including 2 LED tools, a thermometer, an otoscope, and a stethoscope
A PERFECT GIFT: Enrich your child with a fun, immersive toy, and inspire an interest in medicine at a young age; suitable for ages 3-6 years
CERTIFIED & SAFE: Rest at ease while your child plays with a medical set that is both safe and fun; made with plastic materials and meets U.S. Federal safety standards for ASTM & CPSIA; ACCESSORY CASE DIMENSIONS: 8.5"(L) x 3.5"(W) x 8"(H)
Sale
EFO SHM Kids Doctor kit, 34 Pieces Kids Doctor Playset with Medical Storage Bag & Real Stethoscope, Doctor Play Gift for Kids Toddlers Ages 3 4 5 6 7 8 Year Old for Role Play
34-PIECE KIDS DOCTOR SET: Equip your child with essential medical tools including a stethoscope that can make real heartbeats, blood pressure cuff, thermometer, oxygen bottle, syringe, bandages, and other diagnostic and treatment first aid essentials. It also includes a doctor costume and a convenient tote bag for easy storage and portability, And assembled in a beautiful Gift Packaging Box, suitable for gifting
EDUCATIONAL DOCTOR PLAYSET: Foster your child's imagination, empathy, and bravery with the EFOSHM kids doctor playset. This engaging pretend play set teaches children about medical tools and body parts, reducing anxiety and fear associated with doctor visits.
SAFE AND NON-TOXIC: Our doctor kit is made of durable ABS plastic, ensuring it is non-toxic, BPA-free, and odor-free. The tools are designed with no sharp edges, providing a safe and secure play experience for young children.
PORTABLE AND EASY TO STORE: The doctor playset for kids comes with a spacious storage bag, making it convenient for storage and travel purposes.Teach your child the importance of organizing and help cultivate children's awareness of storing toys.
IDEAL GIFT FOR TODDLERS: This kids doctor set is a perfect gift for various occasions such as parties, pretend play, role play, class rewards, holiday toy gifts, stocking stuffers, and birthdays. Playing with the EFOSHM doctor set helps children learn about doctors and alleviates their fear of medical visits.
JOYIN 31Pcs Doctor Kit for Kids,Pretend Play Toys, Educational Dentist Medical Kit with Electronic Stethoscope,Doctor Role Play Costume,Durable Medical Dr Kit Toys for Boys Girls Gifts Ages 3+
31 Pieces Pretend-n-Play Medical Kit Set Includes Stethoscope, Blood Pressure Cuff, Forceps, Bandage, Eyeglasses, ID Tag, Scalpel, Tweezer, Syringe, Scissors, Reflex Hammer, Bedpan, Ear Scope, Oral Mirror, Doctor coat, Doctor Clipboard Paper and Print, Pill Bottles, Pulse Machine, Toothbrush, Flashlight, Thermometer, Otoscope, Denture and Case
Superior Quality; Variety of Doctors Tools; Super Durable; Batteries are included
Super Value Toy Pack for Doctor Dress Up Set; Perfect for Party, Pretend Play, Role Play, School Classroom, Holiday Toy Gifts, Christmas Gifts and More!!! Create Hours of Fun Playtime
CHILD SAFE: Non-Toxic; Met EU Toy Standard