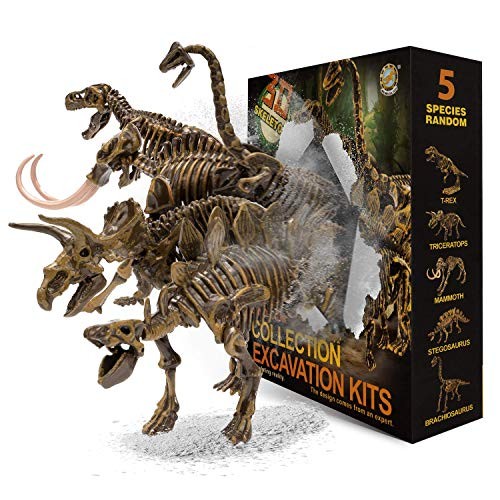 Fossils Excavation Kit for Young Archeologists
Ships FREE with $25+ order
Gift wrap is available
Satisfaction guaranteed
Easy returns
Buying Options
Estimated delivery
1 to 3 business days
Expedited delivery available.
✪Random Dinosaurs and Surprises✪There is a random dinosaurs(T-REX、TRICERATOPS、MAMMOTH、STEGOSAURUS、BRACHIOSAURUS)You won't know which dinosaur is facing you before you start digging!Opening the door to Jurassic World
KIT INCLUDESA dig brick packed with dinosaur and learning guide. Cool Toys and Cool Gift Let your child complete an archeological excavation process by digging brushing and splicing like a real paleontologist.How was an amazing experience! Manufactured by muscccm. A FUN AND EDUCATIONAL GIFT FOR ALL AGESIt's not often that a science project can be fun and engaging but this kit achieves both!It's can cultivate children's practical ability independent thinking ability to stimulate children's potential to give full play to the children's imagination space. Environmentally safe materials Made of durable BPA-free vinyl with realistic details and good toughness that won't break easily.No Pollution Odorless Safe and Non-toxic Environmental Gypsu. Random Dinosaurs and Surprises There is a random dinosaurs- T-Rex you will not know which dinosaur is facing you before you start digging!Opening the door to Jurassic World
Customers Also Bought
Product Details
| | |
| --- | --- |
| SKU | etp-ex-B0828296X3 |
| Quantity Available in Stock | 38 |
| Manufacturer Part Number | 7.51677E+11 |
| Amazon ASIN Code | B0828296X3 |
| Category | Science Kits |
Sale
Educational Insights GeoSafari Fossil Excavation Kit, Kids Science Kit, Dinosaur Science Toy, Ages 7+
DIG INTO DINO DISCOVERY! Little dino lovers can excavate and study real fossils, just like a real paleontologist
FIND THOSE FOSSILS! Use the included rock hammer and chisel to chip away at a hardened sand block and excavate the fossils hidden inside. Then brush them clean and check them out under the included magnifying glass
INCLUDES: Hardened sand block with eight fossils to excavate, rock hammer, chisel, brush, and magnifying glass
FUN WITH FOSSILS! Fossils include a Mosasaurus tooth, trilobite, shark tooth, shark vertebra, gastropods, and more
PERFECT FOR STEM LEARNING! Kids get hands-on practice with real scientific tools and conduct a realistic simulation of a real-world excavation process
Sale
Discovery #MINDBLOWN Colossal Fossil Dig Set, 15-Piece Archeology Excavation Kit, Uncover Real Shark Teeth & More, Every Fossil Set is Unique, STEM Toys for Boys and Girls
✔EXPLORE REAL FOSSILS: Experience the thrill of a paleontology as your child digs up authentic fossils from Gastropods, Brachiopods, or even a Shark Tooth
✔TOOLS OF THE TRADE: Excavate like a pro with a chisel, brush, and magnifying glass to ensure you remove clean and beautiful fossils full intact
✔EVERY SET IS UNIQUE: Every dig brick features a unique assortment of fossils to heighten the excitement and mystery of what may be found
✔LEARN SOMETHING NEW: Kids will learn about new subjects such as Paleontology and Geology while also practicing patience and precision as they must work hard to unearth the fossils within
✔ PERFECT MIX OF EDUCATION AND FUN: The fun and excitement of discovering new fossils is a great way to teach kids about science and is a perfect learning tool outside of school
Dino Fossil Dig Kit for Kids 4-12 Discover Learn with Interactive Guide, Realistic Bones Excavation Tools Paleontology Science Prehistoric Dinosaurs Archaeology Adventure STEM Educational Toy Ages 4-8
DIG UP FOSSILS! Get ready to excavate 15 Ancient Fossils just like a real paleontologist! Discover and classify 15 Ancient Fossils including Ammonite, Dinosaur Claws, Shark's Teeth, Brachiopods and More!
GLOW N' THE DARK! As if discovering Ancient Fossils was not ALREADY fun enough, several hidden mystery Glow-In-The-Dark are among those waiting to be discovered! We've also included a premium set of Glow-In-The-Dark vinyl dinosaur stickers that can be mounted on your child's bedroom, playroom or on the refrigerator.
MYSTERY ADVENTURE! Get ready for a Learning-Focused, thrilling excavation adventure as you use the included brushes, chisels and classification guide to dig up each fossil just like paleontologists do in real life! This kit includes a classification guide with facts on all 15 included fossils which means your child will learn as they play!
LEARN & PLAY! As exciting as it is educational, our glow in the dark fossil excavation kit encourages your child to learn about dinosaurs and the science of paleontology in a fun, hands on way. Sprinkle water on the excavation site and then use the included excavation digging tools to excavate and discover each fossil. Then match the fossil with the included classification guide to learn more about these incredible ancient creatures!
100% SATISFACTION GUARANTEE! If you are not completely satisfied just contact our friendly customer support team for a full refund. We Guarantee Your Satisfaction or a Full Refund - Order Now!
ArtCreativity Dinosaur Excavation Kit for Kids, 5.5" T-Rex Dino Skull Excavating Set with Fossil Digging Tools and Stand, Fun Science Activity Toy, Holiday/Birthday Gift for Boys, Girls, Adults
DISCOVER THE DINOSAUR: That young budding archaeologist will love this! Excavate away to discover the 5.5" T-Rex skull lying underneath. This excavation kit from our 'Discover the Dinosaur' series comes with the toy skull bone, 2 digging tools, and a display stand. (Not a real fossil)
KEEP THEM OCCUPIED: Looking for a fun activity to keep the kiddos engaged? This dino excavation kit for kids will certainly get the job done. It's great individual work and can also be used to keep a group of kids busy during sleepovers or even in the classroom.
FUN SCIENCE TOY: Expose the little ones to the wonders of the prehistoric world with this dinosaur excavating set. Spark a love for science with every dig, use this is a great opportunity to school them on the giant reptiles that roamed the earth, and introduce them to the cool science that is archaeology.
GREAT GIFT IDEA: Birthday, holiday, or anything in between, this T-Rex skull excavation kit makes an awesome treat. It's also great as a contest prize for boys and girls, will make the day of that adult who's obsessed with all things prehistoric, and comes packed in an eye-catching printed box. Ideal for ages 6+
BUY RISK-FREE: We fully stand behind our products with a total satisfaction and 100% money-back guarantee. Not satisfied with this 7" dinosaur activity kit? We'll send you a quick replacement or issue a full refund. Click 'Add to Cart' now to get the dino digging fun started risk-free!
NW Active Kids Small Fossil Excavation Kit
Small Fossil Excavation Kit
Comes with Digging Tools
Lots of Fun - Replica Fossil - One Per Kit
4 Different Types including Bee, Coniferphyta, Dragonfly, and Sycamine
Save on Shipping with additional items from NW Active Kids!
ANNLEAP Dinosaur Fossil Digging Kit for Kids, Dig Up Dinosaurs Skeleton Set, Dino Fossil Dig Kit, Educational Toys, Dinosaur Toys for Kids 5-12, Kids Gifts, Science Kits (Tyrannosaurus Rex)
DINOSAUR TOYS FOR KIDS 4-12: Dinosaur digging toys can stimulate a child's interest in archaeology. Dig up the bones of a Tyrannosaurus Rex & assemble them like 3D puzzles to create lifelike model skeletons!
SCIENCE CAN BE FUN: A dinosaur archeology kit will be the best solution for kids to learn while playing. The dinosaur dig kit toy will help your kid to learn patience and 3D thinking, and improve fine motor skills.
PERFECT CHRISTMAS GIFT: A DIY dinosaur excavation kit is a perfect Christmas gift idea for little explorers. This dinosaur character toy set is very suitable as an educational toy. Each dinosaur is full of adventure and stimulates the imagination.
CULTIVATE OPERATIONAL ABILITY: The fun of digging dinosaurs is not the digging process. The excavated bones need to clean and assembled. which can not only improve the child's mobility but also improve the child's memory
TOP GRADE MATERIAL: Realistic digging dinosaur fossil toy. made of durable, BPA-free vinyl-based, Non-toxic plasterboard. This creates a realistic dinosaur model set. Hours of worry-free games for children.
Dinosaur Dig Kit - Education Gift for Boys and Girls - Fossil Discovery Kit
COMPLETE DISCOVERY KIT - Everything you need to discover 5 amazing Dinosaurs is inside! – Includes 5 toy fossils, wooden mallet, brush and chisel. This educational activity kit shows how to identify dinosaurs like Parasaurolophus, Stegosaurus, and T. REX
EXCAVATE DINOSAURS! This kit includes a comprehensive excavation guide with fun facts about each dinosaur that you & your child will discover.
EASY TO FOLLOW INSTRUCTIONS – Includes easy to follow instructions on how to use included tools to dig up your dinos
GREAT SCIENCE GIFT FOR BOYS AND GIRLS – Fun interactive science kit for young boys and girls. Purchase for those rainy days, birthday gifts, Christmas presents, summer time fun or school project
FAMILY FIRST GUARANTEE - Peachy Keen Crafts guarantees if you are not happy for any reason, we will immediately issue a full refund. There is truly nothing to lose!
VIBIRIT Dig Up Dinosaurs Skeleton Set,Dinosaur Digging Fossil Kit Model Toys Educational Realistic Toys for Kids,Boys,Girls
【Different Surprises】-There is a random dinosaur inside, every time you dig a dinosaur it is a surprise and excitement. These perfect and realistic dinosaur pictures can fully satisfy the curiosity of children.
【Cultivate operational ability】-The fun of digging dinosaurs is not just the digging process. The excavated bones need to be cleaned and assembled, which can not only improve the child's mobility, but also improve the child's memory and increase the baby's self-confidence.
【Archaeological excavation of dinosaurs】-Let children learn the fun and function of archeological excavations by tapping, brushing, and shovel, and training their senses. Understanding more about dinosaurs and understanding nature is of great teaching significance.
【Environmentally Friendly And Safe Material】-Realistic digging dinosaur fossil toy, made of durable, vinyl-based and plasterboard. This creates a realistic dinosaur model set. Hours of worry-free games for children.
【Perfect Gift for Children】 -Toy Gift This dinosaur character toy set is very suitable as an educational toy that stimulates imagination and creative thinking. Each animal is full of adventure and playfully stimulates imagination. In addition, these dinosaur toy sets can also be used as decoration in the room.
Byncceh Mega Fossil Dig Kit - Excavate 12 Prehistoric Fossils, Shark Teeth, Dinosaur Poop, Fossil Fish, Paleontology Educational STEM Science Toys for Kids Gifts for Girls & Boys
🐚DIG UP PREHISTORIC FOSSILS: This is a real fossil dig kit that unearths 12 amazing fossils including dinosaur poop, shark teeth, sand tiger teeth, and more, has a full-color study guide book, and helps young scientists discover each specimen, providing hours of educational fun and sparking a lifelong love of learning in children!
⚒️EXPLORE PALEONTOLOGY – Excavate incredible, real fossils using the included tools of the trade: 2 chisels, 2 brushes, 1 hammer, and a magnifying glass to inspect these amazing specimens!
👩‍🏫PERFECT FOR HOMESCHOOL - Create an interactive lesson with this hands-on science kit. Enriching children's childhood cognitive learning! Only by letting children experience the process of "archaeological excavation" will they leave a deep and beautiful memory for them.
🎉GREAT GIFTS FOR KIDS: If your kid enjoys fossils and you want to keep him busy, get these science kits for kids. And this dig kit for kids allows paleontology digging tools to dig with your kids, just dig it up! This archeology fossil digging kit for kids comes with a well-made box, and a great birthday, and Christmas gift for boys & girls.This kit makes an excellent STEM gift for boys and girls!
💯SATISFACTION GUARANTEED - Better educational toys for your kids. If there is any question about the gem excavation kit, please feel free to contact us. We will be sure to help you with our best service. Please note this is designed for ages 6 or up.
BMCHappy Dinosaur T-Rex Excavation Kit - 16 Bones to Build Glow-in-The-Dark Model - Perfect Digging Toy for Kids Aged 5-13
🦖 We've packed this excavation kit with all the tools your little paleontologist needs to dig for dinos, including a magnifying glass, hammer, and brush. Your child will have everything they need to go on a Jurassic adventure without leaving the backyard!
🔍 Made from top-quality materials, our Dino Excavation Kit is built to last. The bones are made from sturdy plastic, while the tools are made from wood for an authentic feel. We're not kidding when we say this kit can withstand a stampede of wild T-Rexes!
📒 What's better than discovering a T-Rex skeleton? Learning all about it! That's why our kit includes a booklet with fun facts about dinosaurs. Your child will be a dino expert in no time, impressing their friends and family with their knowledge of prehistoric creatures.
💡 This kit is the perfect gift for any kid aged 5-13 who loves dinosaurs and has a wild imagination. Whether it's for a birthday, Christmas, or just because, our Dino Excavation Kit is a unique and exciting present that will keep them entertained for hours.
💗 So, whether your little one wants to be the next famous explorer or just loves digging in the dirt, our Dinosaur T-Rex Excavation Kit is the perfect way to bring the adventure of excavation to your own backyard. So, what are you waiting for? Unleash your inner paleontologist and dig up a dinosaur today!