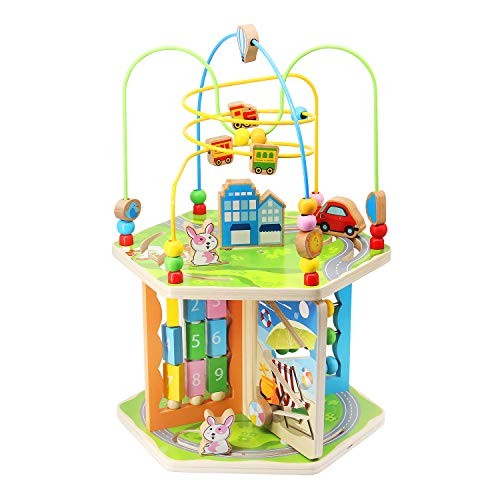 Wooden Play Center 7 in 1 with Bead Maze for Babies and Toddlers Learning
Ships FREE with $25+ order
Gift wrap is available
Satisfaction guaranteed
Easy returns
Buying Options
Estimated delivery
1 to 3 business days
Expedited delivery available.
Natural and Safe Material: Cut from solid wood sanded smooth and finished with safe water-based paints; Non-toxic finishes and child safe materials Educational Learning Toy: Encourage your child to recognize shapes colors words characters and develop imagination hand-eye coordination and problem solving skills Manufactured by ZONXIE. Nice Toy Gift: Best choice as a kids birthday gift which is also a good parent-child game that can promote family harmony Perfect Size: The height is suitable for sitting kids to play; Don't need to assembly there will be no fragments 6 Sides Activity Cube: A variety of game-plays make children more interested in this. Calculation beads digital and picture cognition and so on are better to strengthen child's brain development
Customers Also Bought
Product Details
| | |
| --- | --- |
| SKU | etp-ex-B07G28LTNV |
| Quantity Available in Stock | 29 |
| Dimensions of Package | 16.33x10.23x11.61 |
| Manufacturer Part Number | KT-RaoZhu |
| Amazon ASIN Code | B07G28LTNV |
| Packaged Product Weight | 2.4 |
| Category | Bead Mazes |
Best Selling Toys Related to Wooden Play Center
Battat – Wooden Activity Cube – Discover Farm Animals Activity Center for Kids 1 year +, Standard
WOODEN ACTIVITY CENTER: Our Battat farm-themed activity cube for 1-year-old children and older is a true childhood classic. Farm animals are ready to play peek-a-boo, while the loopy routes, zigzag paths, and beads are begging for tiny hands to play.
TIME FOR FUN: This wooden cube toy has so much to discover. Drive the tractor around the farm, move the colorful beads through the bead maze, spin the spinners, or mix and match the animal puzzles. This learning toy cube offers hours of fun!
SAFETY FIRST: At Battat, keeping your little one safe is our top priority. All of our learning activities and toys are crafted from sturdy, kid-friendly materials to keep your little ones safe as they play and learn.
LEARNING IS FUN: Little brains develop best when they are engaged in play. Our toys encourage imaginative and pretend play to help improve concentration and memory all while focusing on the important developmental skills your child needs to master.
BATTAT TOYS: Childhood is a time to be bold and curious, and Battat aims to be there every step of the way. We're a family-owned business that offers a full range of preschool toys that are as playful as they are educational.
Sale
Manhattan Toy Playground Adventure Wooden Toddler Activity Center with Gliders, Abacus Track, Spinners, Spring Toys and Bead Runs
HANDS-ON LEARNING FUN: The Playground Adventure wooden toddler toy is packed full of motor skill activities and unparalleled visual appeal. Your little one won't even know they're practicing their fine and gross motor skills as they investigate all of the features offered by this playground-themed activity center.
BOUNTIFUL ACTIVITY CENTER FEATURES: With 20 gliders on seven different tracks, an abacus track, five beads runs, two spinners, a springy bear riding a dinosaur and more, kids will be mesmerized by this classic wooden toddler activity and motor skill developmental toy. When toddlers are engaged and happy, so are their caregivers.
THE DETAILS MATTER: Colorful, highly detailed graphics abound on this activity stand, with a bright outdoor palette to instantly capture and hold your little one's attention. While exploring all of the activity features, the Playground Adventure will send imaginations into overdrive.
WOODEN TOY FOR TODDLERS: This wooden activity toy for toddlers measures 20.5" tall and 18" wide, with a water-based, non-toxic finish, and is a suitable toy for 1 year and up - a perfect first birthday gift, nursery toy, or children's room décor piece.
Clean Playground Adventure as needed with baby-safe cleaners or wipes (not included); adult assembly required - hardware included. Assembly time under 30 minutes.
Wooden Baby Gym with 3 Gym Toys, Foldable Baby Play Gym, Natural Pine Wood Play Gym, Frame Activity Center Hanging Bar Newborn Gift, Newborn Gift for Baby Girl and Boy, Grey
HIGH QUALITY SAFTY DESIGN: Immerse your baby in a world of secure exploration with our meticulously crafted baby gym activity center. Our baby gym activity center is constructed from natural pine wood and artfully sanded to a luxuriously smooth finish, this natural material guarantees both safety and durability.This versatile gym encourages sensory play and motor skills, making it a wonderful gift choice for baby showers, birthdays, or any special occasion.
3 CUTE BABY SENSORY TOYS: Our baby play gym includes 3 removable sensory hanging rings for added interactive play. These thoughtfully designed components not only encourage early motor skills but also provide infants with engaging items to grasp and explore. Plus, the removable design allows you to switch out or add more hanging toys, tailoring the experience to your baby's preferences.
ADJUSTABLE & PERFECT SIZE: Our baby gym boasts ideal dimensions: gym's legs is 19.7'' (50 cm), Depth is 19.7'' (50 cm), Height from the floor to a play gym bar is 17.7'' (45 cm). This thoughtfully crafted size ensures versatile functionality, providing ample space for your baby's explorations and playtime activities.
EASY TO ASSEMBLE & MORE STABLE: Our wooden play gym is designed for your convenience. It comes with removable toys, allowing you to tailor the experience as your baby's curiosity evolves. Its user-friendly design ensures easy setup and compact folding. With a sturdy and stable build, it's perfect for indoor and outdoor use.
AFTER-SALE GUARANTEE: Because our baby gyms are made of wood, so it is easy to be broken during transportation. If the hanging toys or wooden rings broken, please don't hesitate to contact us freely! We'd love to help you with any problems in transaction. Warning: Never leave baby unattended on the mat. Always use under adult supervision.
LAVIEVERT Activity Center Play Cube 10-in-1 Bead Maze Shape Sorter Multipurpose Educational Toy Wooden Learning Game for Toddlers & Kids
Safe Eco-friendly Material - Lavievert bead maze toy kit is made of solid wood, and coated with nontoxic odorless water paint that poses no threat to natural environment. Each side is exquisitely processed for kids' safety. No assembly required and right size for a sitting kid to play with.
Multiple Fun - The 11-in-one game combination includes dinosaur jigsaw puzzle, spinning windmill, rotating gears, funny turntable, abacus, hot air balloon clock, multi-shaped blocks, orbital vehicles, magnetic fishing game, bead maze and aeroplane chess.
Enlightenment & Education - Processed with new UV color printing technique. Bright colors and multiple shapes are conducive to kids' sensory stimulation and brain development. Up to 9 different sides and 11 games for the kids to learn to distinguish between shapes, colors and numbers, thus boosting their hand-eye coordination and guiding them to explore the unknown.
A Good Gift Choice - Serves not just as a toy, but the bond between you and your kids. It is an enlightening and educational toy that allows kids to learn shapes, colors, numbers, alphabets and time while playing.
Package Contents - Package comes with wooden fishing rod × 1, magnetic wooden fish × 1 pack, colorful cubes × 1, flying chess × 1 pack, orbital vehicle × 1 pack. Recommended age: 3 years and above.
LAVIEVERT 9-in-1 Wooden Play Cube Activity Center Multifunctional Bead Maze Shape Sorter Educational Toys Game for Toddlers & Kids
Environmentally Safe Material - Lavievert bead maze is designed to scientifically enlighten and develop children's skills. Constructed by solid wood and crafted with advanced technique, no toxic paint included. The detachable lid and bottom side can be used respectively for different games, while the bead maze can be put inside after use.
Multifunctional Toy Set - 9-in-1 game set features bead maze, fishing game, flight chess, colored abacus, color & pattern matching game, clock, number blocks, gearwheel, and creature matching game.
Enlightening & Educational - Bright colors and a variety of geometric figures are conducive to children's sensory stimuli and cerebral development - the bead maze enhances their hand-eye coordination, the colored abacus enlightens them with the basics of arithmetic, the gear wheels help to develop their logic, the clock with adjustable hands guides them to form the idea of time, and the creature matching game allows them to learn to think.
Play With Others - This play set is good for encouraging them to learn and guiding them to explore unknown things. Kids may not be aware that they are learning while playing with their little buddies.
Package Includes - Wooden fishing rod × 2 pcs, magnetic wooden fish × 1 pack, colored cube × 3 pcs, fly chess × 1 pack. Suitable for kids of above 36 months.
Wooden Baby Play Gym for Baby Gym with 6 Infant Toys, MAAZO Foldable Baby Play Gym Frame Activity Center Hanging Bar Newborn Toys Baby Gifts Easy to Assemble (Natural Color)
★【Exercise Grasping Ability】The baby gym has 6 toys. The baby will reach out and grab the hanging ring when lying down, which can exercise the baby's hand-eye coordination and grasping ability.
★【Carefully Polished】 The baby gym frame is made of high-quality New Zealand pine wood, the frame and ring have been polished many times, the surface is smooth, and the baby's stretching will not hurt the hands.
★【Natural and Healthy】The baby gym retains the natural color of the wood, and the toys has a mild color, which allows the baby to perceive the color while protecting the safety of the baby, and carry out color enlightenment. Great for newborns.
★【Adjustable Height】The horizontal bar in the middle of the baby gym is 19.7 inches , and the vertical bar is 25.6 inches. The height can be adjusted according to the length of the baby's arm by adjusting the length of the beaded rope.
★【Perfect Service】We take every product seriously, if you have any questions, please feel free to contact us. We will solve it for you until you are satisfied.
Sale
Melissa & Doug Wooden Get Well Doctor Activity Center - Waiting Room, Exam Room, Check-In Area - Toddler Playset, Doctors Office Pretend Play Set For Kids Ages 3+
Wooden multi-sided doctor's office activity center play space with waiting area, exam room, sink and reception area.Ideal for ages:3 years and up
Includes blood pressure monitor with adjustable cuff, 2 X-rays to display, scale with movable weight, adjustable height bar, eye chart, clock with movable hands, movable tool hooks and holders, sink, sanitizer pump, reversible diploma/window card
Other realistic details include credit card reader and card, double-sided sign, reusable patient information file and holder, file return slot, wooden cell phone and holder
Great for easing kids' fear of doctor's visits; encourages imaginative, nurturing, and empathetic play
Makes a great gift for children ages 3+
Sale
Get Well Doctor Wooden Activity Center - Kid's Pretend Play Medical Playset w 16 Fun Accessories, Dual Sided, Office Checkup Kit X-Rays Blood Pressure Cuff- Roleplaying Center for Boys & Girls 3+ Gift
My Medical Center Pretend Doctor Playset - Wooden interactive medical checkup set for kids
Full 16 piece doctor activity center includes: Double sided X-ray, 2 storage bins, cream, cotton swab, medicine jar, blood pressure cuff, stethoscope, scissors, otoscope, thermometer, magnifying glass, tray, anatomy chart, eye chart and clock with moving hands
Fun Role Playing Game for Kids - This exam set will teach children imagination and problem solving. Also promotes empathy and love as little girls and boys will learn how to care for others. Will also help to lessen the fear of doctors visits!
Compact Storage - Medical play set includes 2 storage compartments to store all that it comes with!
Fun Gift - This realistic set will make a great gift for birthdays, Christmas, holidays & more!
Sale
Wooden Farmers Market Stand - Toy Grocery Set for Pretend Role Play, 30+ Pieces- Includes Fruit Veggies Chalkboard & Cash Register, Fun Indoor Natural Wood Set, Kids Playroom, Daycare Activity Center
Wooden Farmers Market Stand for Pretend Play (30+ Pieces) - Includes Fruit, Veggies, Chalkboard, and Cash Register
Explore imaginative play through the Svan Farmer's market Stand. The possibilities are endless: pretend to own a fruit and vegetable stand or be a Farmer's market customer!
Kids Grocery Stand - Includes everything you need for a pretend Farmer's Market including: Farmer's Market stand, 25 Fruits and Vegetables, Fruit Jams, Cash Register, Chalkboard, and Shopping Bag
Kid's Playroom Furniture - Kids can try out new vocabulary, resolve conflicts, observe consequences, and strengthen their interpersonal skills while learning about entrepreneurship! Great indoor activity center for at home, in schools or daycare
Made from sturdy all-natural wood and non-toxic paint, ages 3+, adult assembly required
When I Build With Blocks
Used Book in Good Condition
Alling, Niki (Author)
English (Publication Language)
30 Pages - 06/07/2012 (Publication Date) - CreateSpace Independent Publishing Platform (Publisher)